Archives and History
of the
Rotary Club of Space Center (Houston), Texas, U.S.A.
Rotary International District 5890
(District 589 prior to Rotary Year 1991-92)
Club 2010
Chartered August 6, 1964




ROTARY CLUB OF SPACE CENTER
BANNER CARRIED AROUND THE MOON
DECEMBER 21-27, 1968 ON APOLLO VIII LUNAR MISSION



The distinctive banner of the Rotary Club of Space Center, depicting an astronaut in an Extra-Vehicular Activity of "Space Walk" while orbiting the Earth, is like the banner which was carried by Rotarian Colonel Frank Borman on Apollo VIII Lunar Mission December 21-27, 1968 and which was later presented to Rotary International President Togasaki in Honolulu, Hawaii by Colonel Borman. The banner is displayed in Rotary International Headquarters in Evanston, Illinois. (Update June 2012 from Suzi Howe, Club President 2001-02 and District 5890 Governor 2006-07: ".....I have just left One Rotary Center and learned that our banner is not "hanging" at Rotary International, but rather is stored off-site with other valuable historical documents and memorabilia in a properly controlled environment (temperature, etc.). There is a rotating exhibit of historical items from this collection."
Exerts from the
1969 Proceedings of the 60th Annual Convention of Rotary International
May 25-29, 1969 are below
Read the entire article; copy of proceedings or transcribed copy


Colonel Frank Borman presentation to Kiyoshi Togasaki,
President of Rotary International


If I may, I have here a little item, part of which was carried around the moon with us on Apollo 8 that I would like to present to Rotary International, sir. It is a little banner of our Space Center Club; it is a small but well traveled one. It has been around the moon. I would like to read the inscription, if I may:


This banner, carried across the
threshold of space to orbit the moon
December 21, nineteen hundred and sixty-eight
through December 27, nineteen hundred and
sixty-eight, is presented by the crew of
APOLLO 8
to
ROTARY INTERNATIONAL
in gratitude and remembrance of Rotarians
everywhere who strive through selfless service
to bring closer the day of universal understanding
and peace to the Good Earth.
Frank Borman
James Lovell
William A. Anders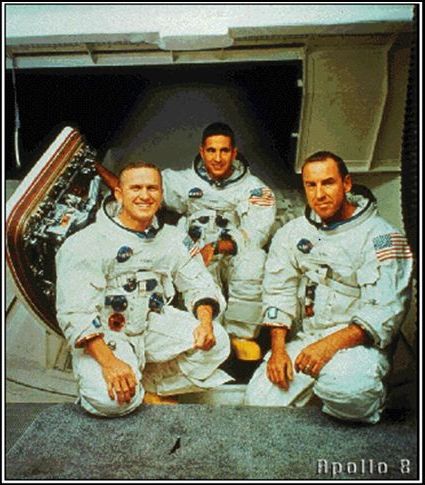 Apollo 8 Lunar Mission Crew
L to R: Frank Borman (command pilot), William A. Anders, James Lovell
The above picture was taken from the NASA Archives July 22, 2010
Frank Borman was an honorary member of Rotary Club of Space Center
November 23, 1964 and James Lovell August 17, 1967

President Togasaki: Thank you, Frank. Will you now please join me at the lectern at this time?
I would like to read to you aloud the inscription on this Certificate of Appreciation:
The President and members of the board of directors of Rotary International, acting in behalf of Rotarians worldwide, recognize and desire to acknowledge the outstanding service to his fellowmen, and in particular to his fellow Rotarians, rendered by Rotarian Frank Borman of the Rotary Club of Space Center (Houston) who, in commanding the spaceship Apollo 8 in the first manned circumnavigation of the moon, not only achieved a technological triumph, but brought to his mission a demonstrable humility and a sense of the eternal values which have set an unique pattern of excellence amid a disturbed and restless society.
We, your 660,000 fellow Rotarians, salute you for self-less service far beyond the call of duty.
Honolulu
May, 1969
Signed, and on behalf of the board
Kiyoshi Togasaki,
President of Rotary International